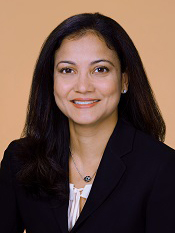 CPC – Wyndham
5360 Twin Hickory Road, Glen Allen, VA 23059
Phone: 804-346-3200
Fax: 804-346-4075
Education:
Undergraduate: Kailash Chandra Memorial School, India, 1990,
Graduate: Kyrgyz State Medical Academy, Kyrgyzstan, CIS, 1998
Masters: Boston University School of Public Health, 2006
Residency: University of Connecticut School of Medicine – Internal Medicine, 2003


Boston University School of Medicine – Preventative Medicine, 2006

Fellowships: Boston University School of Medicine – Department of Internal Medicine,Women's Health, 2006 
Licensure:
Commonwealth of Virginia Board of Medicine
Certification:
Educational Commission for Foreign Medical Gradutates
Board Certified through the American Board of Internal Medicine
Professional Organizations:
American College of Physicians, Medical Society of Virginia, Society of General Internal Medicine
Personal Interests:
Publications Abstract/Articles:
Aggarwal A, Carr P, Work up of women with Anemia. Women's Health in Primary Care. 2005; 7/august Vol. 8: 314-320
A. Aggarwal, K. Freund, A. Sato, et.al. Are Depressive Symptoms Associated with Cancer Screening and Stage of Cancer In Postmenopausal Women: The Women´s Health Initiative. J of Women's health; 2008 Oct 17(8), 1353-61: PMID 18788983
A. Aggarwal, K. Freund, V. Ramakrishnan, R. Rosenheck; Stage of Colorectal Cancer Among Veterans with Mental Illnesses And Substance Abuse. JGIM. 2007; 22: S-136. DOI: 10.1007/s11606-007-0176-6
A. Aggarwal, M. Passche-orlow, J. Speckman, K. Roloff, TA. Battaglia, The Role of Numeracy on Breast and Colorectal Cancer Screening among Urban Women. Am J of health Behavior. 2007; Sep/ Oct (31): S57-S68. PMID: 17931137
A. Aggarwal, N. Li, A. Lee, L.E. Kazis, D.R. Berlowitz. Colorectal Cancer Screening Rates In Patients With Chronic Mental Illnesses And Substance Use Disorders: A Retrospective Nation-Wide Data Analyses. Abstract; JGIM. 2009; 24: Supplement 1/April: 44 DOI: 10.1007/s11606-009-0963-3
A. Aggarwal, L. Nien-Chen, L. Kazis, A. Lee, D. Berlowitz. Predictors Associated With Low Colorectal Cancer Screening Rates in Patients with Chronic Mental Illnesses and Substance Use Disorders: A Nation-Wide Data Analyses. JGIM. 2010; 25: Supp 3:355
A. Dow, A. Aggarwal, H. Masters, L. Kreisa, W. Smith, P. Boling. Predicting Hospital Readmission: Validation of Rampart. JGIM. 2011; 26: Supp 1:342-343
K. Horton, S. Hudson, D. Borden, A. Aggarwal. Intervention to Reduce Inappropriate Papanicolaou Testing In a Resident Clinic. JGIM. 2011; 26: Supp 1:285
A. Aggarwal, AA. Froehlich, P. Essah, N. Brinster, WA. High, RW. Downs. Complications of nephrogenic systemic fibrosis following repeated exposure to gadolinium in a man with hypothyroidism: a case report.J Med Case Reports. 2011 Dec 7;5:566. PMID: 22152227
A. Aggarwal, A. Pandurangi and W. R. Smith. Cancer Screening in Women with Chronic mental Illness: A Systematic Literature review Am J Prev Med. 2013 Apr;44(4):392-8. PMID: 23498106
Sadock E, Auerbach SM, Rybarczyk B, Aggarwal A. Evaluation of integrated psychological services in a university-based primary care clinic. J Clin Psychol Med Settings. 2014 Mar;21(1):19-32. PMID:24165929
Sadock E, Auerbach SM, Rybarczyk B, Aggarwal A The Relationship of Life Stressors, Mood Disorder, and Health Care Utilization in Primary Care Patients Referred for Integrated Behavioral Health Services. Accepted at Journal of Nervous and Mental Disease

Locations
We offer many convenient offices In & around the Richmond area.

Providers
Learn more about our Providers at Commonwealth Primary Care.

News
Find out important information, updates & changes to our practice.