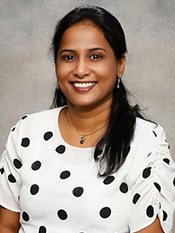 CPC – West Creek
1630 Wilkes Ridge Parkway, Richmond, VA 23233
Phone: 804-288-0057
Fax: 804-288-0389
Education:
Graduate: Mahadevappa Rampure Medical College, India, 2000
Residency: University of North Dakota, 2010
Licensure:
Commonwealth of Virginia Board of Medicine
Certification:
Educational Commission for Foreign Medical Gradutates
Board Certified through the American Board of Family Medicine
Professional Organizations:
American Academy of Family Physicians, American Medical Association
Personal Interests:
Music, Cake Decoration, Swimming and Traveling

Locations
We offer many convenient offices In & around the Richmond area.

Providers
Learn more about our Providers at Commonwealth Primary Care.

News
Find out important information, updates & changes to our practice.