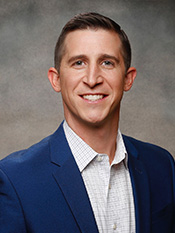 CPC – SFP
14415 Justice Road, 
Midlothian, VA 23113
Phone: 804-594-0125
Fax: 804-594-0126
Education:
Undergraduate: Virginia Tech, 2005
Medical School: Edward Via Virginia College of Osteopathic Medicine, 2009
Residency: Genesys Regional Medical Center, 2012
Licensure:
Commonwealth of Virginia Board of Medicine
Certification:
Board Certified through the American Osteopathic Board of Family Physicians
Professional Organizations:
American Academy of Family Physicians
American Osteopathic Association
American College of Osteopathic Family Physicians
Captain in the US Army Reserve Medical Corps
Personal Interests:
Running, Hiking, Cycling, Camping, and Anything Outdoors

Locations
We offer many convenient offices In & around the Richmond area.

Providers
Learn more about our Providers at Commonwealth Primary Care.

News
Find out important information, updates & changes to our practice.